"There is a liberating freshness and colour joy about them and in between, a good portion of humour".
– Art News, Denmark (Kunstnyt, Danmark)
"Rythmic and organic, some resembling geological strata infused with bold hues. Thomas Eje's works contribute a whimsical yet confident vision, delighting the viewer with spontaneous and unpredictable combinations of form, line and color".
– Lisa Mack, Gallery Las Vegas
"Life is like a painting. You start with a dot or a line and hopefully in the end, the canvas is filled out with a story and a lot of lovely colours. The advantage with a painting is that you can always paint it over and start again from scratch".
– Clever statement by Thomas Eje in 2011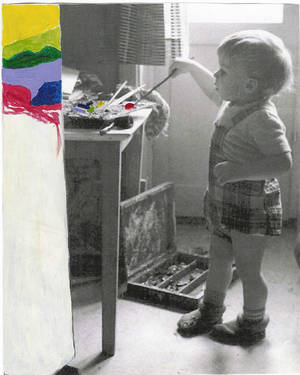 I come from a family of artists. My grandfather Th. Hagedorn-Olsen was a painter. My other grandfather Chr. Christensen was a tailor and amateur actor. My father Poul Eje was a painter. My mother Bodil Eje was a painter and enamel-artist. My brother Niels Eje is a musician and composer. Among my uncles, aunts and cousins we find painters, textile-artists, sculptors, paramedics, ceramists, photographers and musicians. My beloved wife Katherine is a painter and ceramist. This is more than what you normally would call "inspiration". I am totally brainwashed with art from childhood to – I don't know what.
As you can see on the picture, my colourful function began at an early stage in life, by abusing my fathers painter gear.
More or less discreet as the years has gone by. And now much less discreet than it has been less before. I first and foremost paint to please my self and thereby I hope it can please others. And, of course, because I wish to make a sympathetic spectacle of my self …
In 2008  my English wife Katherine Scrivens Eje and I established our own gallery:
Galleri Scrivens & Eje  in Sønderborg, Denmark where we exhibit and sell our own works
Works 
OTHER WORKS
KERAMIK
OTHER EXHIBITIONS AND DECORATIONS:
"Copenhagen Town Hall" 2003
"Beierholm Revision" (København) 2004
"Gallery Las Vegas" 2007
"Planet Hollywood – Las Vegas" 2008
"Easter Exhibition Nordborg, Denmark" 2009
"Gallerie Trampedach – Hillerød" 2010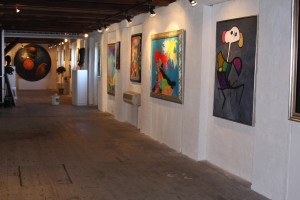 "Artist of the year – Siemens (Litografi) 2010
"Årets Kunstner – Kræftens  Bekæmpelse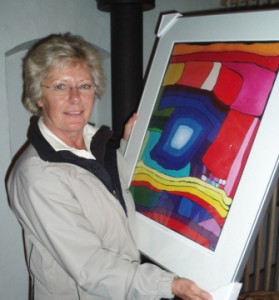 (Plakattryk) 2010
"café Ib Rhené Cairo" 2011
"Sønderborg Køkkenet" 2011
"Wiibroe Årgangsøl" (Øl etiket) 2010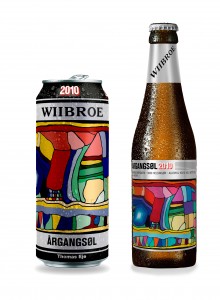 "Sønderborg vinen"  (Vin etiket) 2011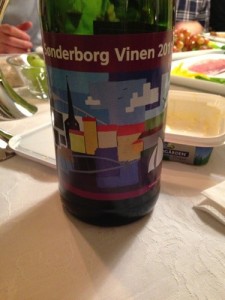 "Sydvestjysk Sygehus, Esbjerg" 2014
"Galleri Scrivens & Eje" Permanent